The Autumn Road
Sep 19, 2017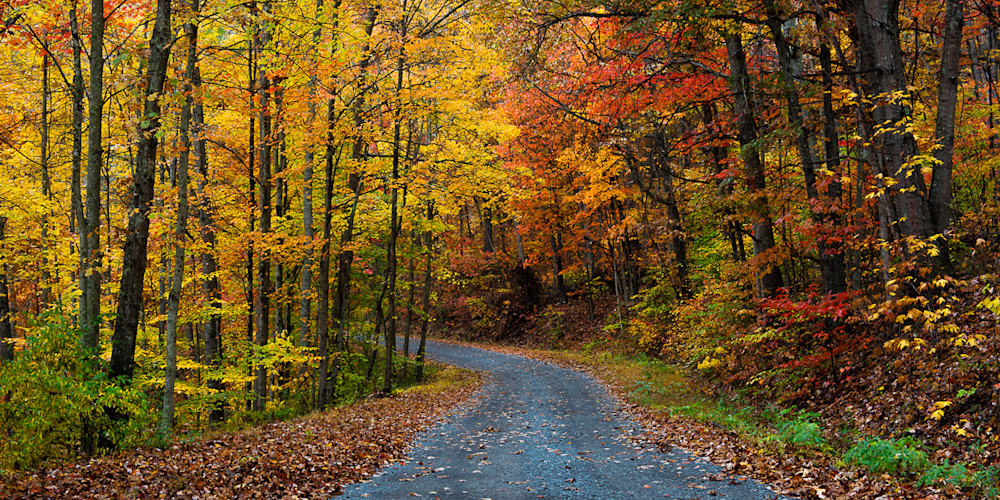 Landscape Photographers chase flowers, mountains, and skies. And in the next seven weeks, we chase trees. More precisely fall color, the golden icing for our scenics and the rustic hues for our closeups.
This is the high season for spectacular fall colors. Before us, the opportunity photograph the quiltwork of Colorado's Aspens; the roasted colors of New England; the collage of oranges and reds in the Appalachia; the refined Aspens in the Eastern Sierra; and the cottonwoods, maples, and oaks of Zion National Park. Great colors can also be found on day trips to parks and woodlands near your home.
If you photograph local areas, you are probably already in tune with the local peak days and locations. But for those who travel outside of their local area, finding the best days to visit often depends on researching historical data and reviewing fall color reports. There are resources to help guess the best calendar days for your trip. I use Internet forums such as 14ers Fall Photography Forum for Colorado, Jeff-folliage.com for New England; Rocky Mountain Nature Photographers site or Facebook page; or even photo gallery sites such as Flickr with Date Taken ranges to provide excellent clues on past and current condtions. Photographer workshop dates can also help set the dates of your trip; dont forget that attending a workshop can help you find some of the best shooting locations from experienced photographers.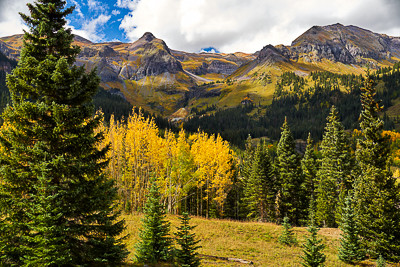 Commodore Gulch
Lets start with Colorado, home of the Aspens. Aspens are colony tres - that is an entire grove may be one organiism connected with the same root. The size and age of an Aspen grove can be immense; he cluster of trees all turning the same color at once leads to a quilt-work of color in Colorados favorite canyons. This weekend, the upper San Juans near Red Mountain; as well the higher passes along the front range should be in excellent shape.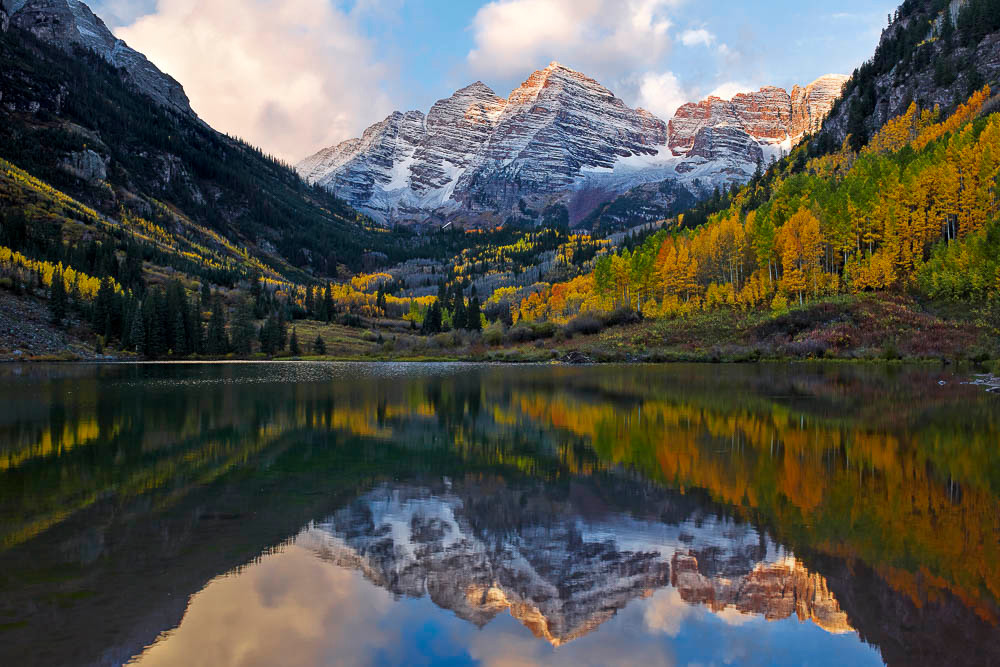 First Snow on the Bells, Maroon Bells, Aspen
By September 24-26, the Colorado action moves toward the central mountains around Aspen, with Maroon Bells the epicenter for dawn photography. Hundreds of photographers descend on this location looking to catch the dawn alpenglow and reflections of golden aspen trees in the mirror-still lake. Then the circus moves southwest toward Ridgeway and Telluride for the first days of October. Images centered on Mt Sneffels can be epic; an image I have yet to achieve.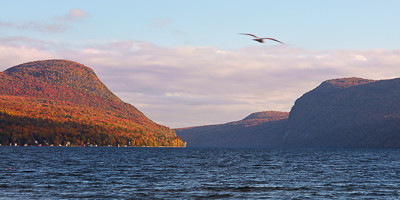 Lake Willoughby
Late September is also a time for New England, with colors starting well north near the Canadian border in regions like the Northeast Kingdom of Vermont. This image shows fall color across the hillsides around Lake Willoughby in Vermont.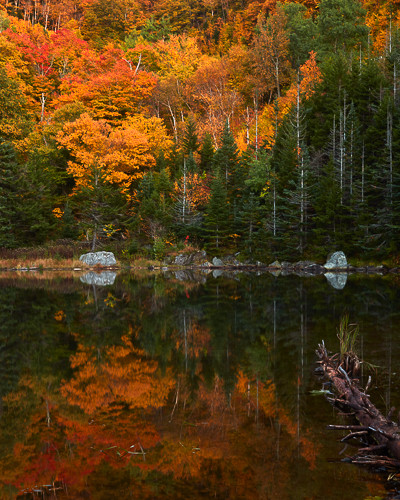 Chamberlain Glen
Stowe and the Mad River areas become interesting around first weekend in October; with the color moving rapidly south through Woodstock by the end of the first week.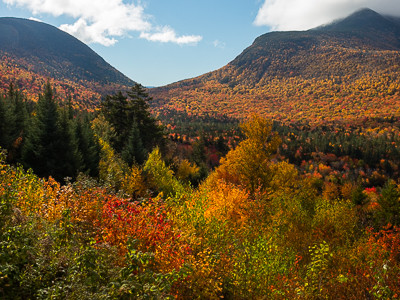 Kancamagus
My photos from last year showed spectacular color through the New Hampshire's Kancamagus around October 10. I did spend a few days under overcast skies before finding these brilliant scenes. But do expect crazy weekend crowds from points south when fall is in high gear.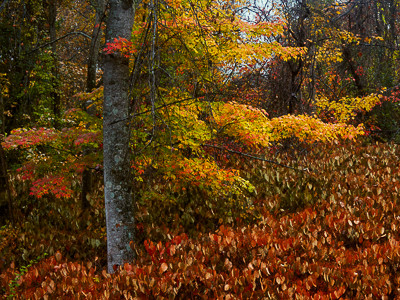 West Virginia Red Maple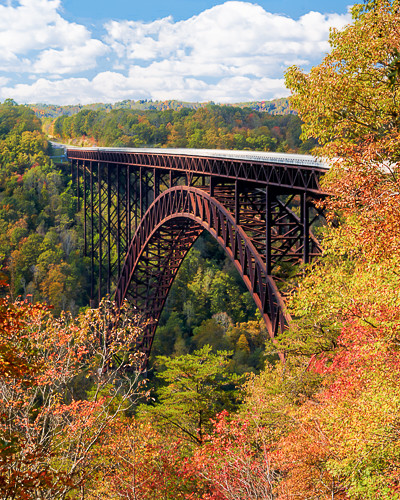 New River Gorge Bridge
In my experience, West Virginia exhibits a split personality, with areas like Blackwater Falls exciting in the first weeks of October; and New River Gorge becoming more interesting later in the month. This red maple guards an area along Minden Road near the New River Gorge, taken October 25.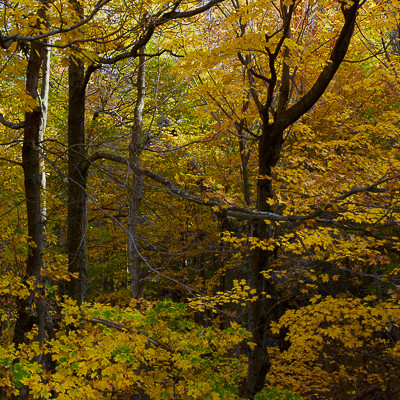 Shenandoah Yellow
Shenandoah can have insane color in mid October. Follow the National Park updates for reports every few days. While the park may be in full color, many of the lower areas may still be green.



Fall Branch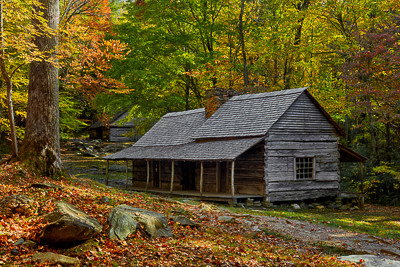 Tennessee Homecoming
The Great Smoky Mountains became exciting on the third weekend of October. This view is from the Roaring Fork road in 2015, an area later hit hard by the 2016 Gatlinburg fires. The cabin survived.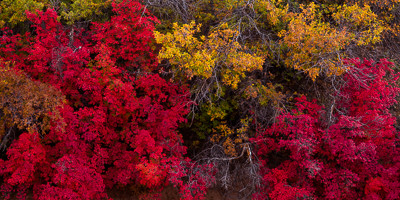 Maple and Willow
Back to the west, Zion National Park's main canyons turn all sorts of colors in late October through the first week in November. If you are lucky, the cottonwoods, maples, and oaks can all be in color. The upper canyon above the tunnels turn first; this photo from October 25. The Virgin River area usually peaks in November. Being near Zion, I have many fall shots; but Zion is a challenging place for great compositions. I discovered some great ideas on my epic Winter trip earlier this year; I look forward to breaking the Zion code.
My plans for fall 2017 are centered on Acadia National Park, a coastal Maine area known for its outstanding fall color and rocky coastlines. Short visits to the eastern Sierra and West Virginia are also in the mix.
(c) All Photos Copyright Karl Buiter Photography Ltd.
All Rights Reserved.